In honor of school being out, sun shining, I-need-a-great-book-to-read-by-the-pool, I've rounded up some of my favorite summer reads.
Take a look through the list (in no particular order) and share your favorite summer reading in the comments!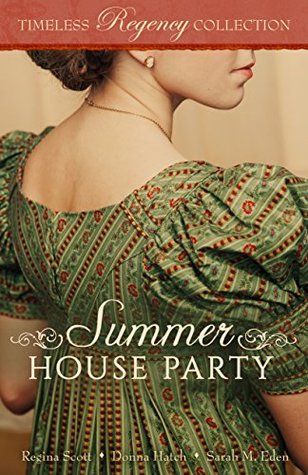 I honestly can't pick a favorite story from this one.

An Engagement of Convenience by Regina Scott
I loved the relationship between Kitty and Quentin. That's all I have to say about that.

A Perfect Match by Donna Hatch
Ah! True love at first sight. But will it work out?

The Pauper's House Party by Sarah Eden
But who's really the pauper?
Open for Love by Elana Johnson
Sabrina Arnold loves running her family's Bed & Breakfast in sunny New Orleans. What she doesn't love is the new establishment going up right next door.
 
Secrets in the Sand by Cindy M. Hogan
Sometimes staying hidden, even for a spy, is nearly impossible.

 
Life's a Beach by Jo Noelle
Jenna Brennan doesn't believe in love. She doesn't believe in marriage, and she's learned to only count on herself.
 
The Upgrade by Candice Toone
Moving on after college can be tough. Especially when former sorority president and dance team captain, Amanda Ford, takes a job at her alma mater.

Surfboards and Star Trek by Donea Lee Weaver
When Anna meets much-younger-looking Derek while on vacation at the beach-it's not exactly love at first sight. How could a handsome surfer be interested in a divorcee like her?
At first I wondered what six stories about romance on a road trip. Would they all be about a couple stuck together in a car trying not to be awkward and like each other at the same time?? I'm happy to say I was pleasantly surprised about each story. They were all great stories!

What Falling Feels Like by Jolene Perry
I loved that Kendall or Ken is a girl and she buys, refurbishes and sells campers. The relationship was just the right kind of tension, too.

Antiques Road Trip by Sarah Eden
What a fun, clever story about a reality show (I strongly dislike reality shows) set on a 19th century film set. Do you know how many women would give up their 20th century luxuries to be in a show like that?


Wouldn't It Be Nice by Renee Clark
Who will Jacq pick? The old boyfriend or the best friend's brother? You'll have to read the anthology to find out!

Head Over Heels by Annette Lyon
From Comic Con to Vegas, all in the presence of a handsome stranger who likes to dress in cosplay, Tristan has no chance. When the two decide to pull a prank on Tristan's friend and pretend they are engaged (they're in Vegas after all) things get a little dicey between prank and real life.

Two Dozen Roses by Heather Moore
I liked this story about a mother and her daughter taking a road trip together along the coast. Of course, they meet a couple of handsome strangers.

Try, Try Again by Aubrey Mace
I have to say, I loved the pregnant friend in this story. And it really was a good story. What twitter-patted female drags her pregnant friend to a funeral to see the lost love of her life?