No Feline guests today. Only cool bloggy winners!
Do you have a favorite writing blog you go to or get their newsletter? I really like K.M. Weiland. I also like to listen to her podcasts when I'm working out. I bought her outlining book too and have used it well!
I took ALL this content off of
Write to Done
. I read their blog too!
We're delighted to announce the winners of our 9th annual Top 10 Blogs for Writers Competition!
It's exciting to see such an array of excellent blogs for writers.
Make sure you visit all the ten blogs to get to know the new top crop of writing blogs.
How were the winners selected?
Initial qualification: A site must have been nominated more than once by multiple individuals. If someone nominated more than one blog, only the first nomination was counted. Valid nominations needed to include the URL and give a reason why the nominated blog should be considered.
Contest criteria: In order to be considered, a blog needed to be a writing blog. In order to qualify, at least 50% of posts needed to be about writing and not about freelancing, business, publishing, promotion etc.
Blog-based analysis: Reader involvement: Average comment numbers per post account for 15% of the total score. Number of nominations account for 15% of the total score. Average number of shares on social media per postaccount for 15%. These three blog-based factors make up 45% of the final score.
Quality of posts: Educational, useful, engaging and discussion-creating posts were rated higher than self-promoting posts. The quality of posts accounts for 55% of the final score.
And the 10 winners are …
The blogger behind this blog is Jeff Goins. He has created a vibrant place for writers to gather.
Bryan Hutchinson has created a dynamic blog with a positive vibe and has built a substantial readership in a relatively short time.
Children's fiction author Tara Lazar has turned her blog into a lively resource for picture book writers.
Katie Weiland's blog is a great place for fiction writers. If you want to know how to write your novel, this is where you can find in-depth advice.
Created by Joe Bunting, the Write Practice is the place to go if you want to kick-start your writing practice.

This blog by C S Lakin is a haven for writers of fiction. If you're looking for advice about plotting, or how to overcome tricky grammar problems, Susanne Lakin's blog is the place to search.
Novelist Chuck Wendig's blog is an excellent example of how to create an author platform. He's created a lively blog with many useful tips for fiction writers.
The tagline of this blog is:
… helping writers create, connect and earn
. This interesting site is run by
Alexis Grant.
This is a zesty blog with great information. Jennifer's blog is focused on helping writers create novels.
Experienced writing coach, author and publisher Darcy Pattison has created an appealing author platform with a blog for fiction writers.
There you have it: the ten top blogs for writers in 2015.
Congratulations to all the winners!
I'm really excited about this line-up of writing blogs, aren't you?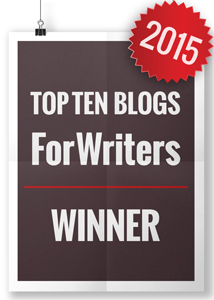 The badge of distinction
: If you're a winner, please display the badge you see below on your site and link the badge back to this post.
Readers, be sure to check out these awesome blogs!
And please help spread the word. Click on the social media buttons to share this post with friends and fans.
We'll be inviting the winners to guest post on WTD so that all our readers can get to know and enjoy these excellent bloggers.
Please add *your* congratulations in the comments.
About the author: