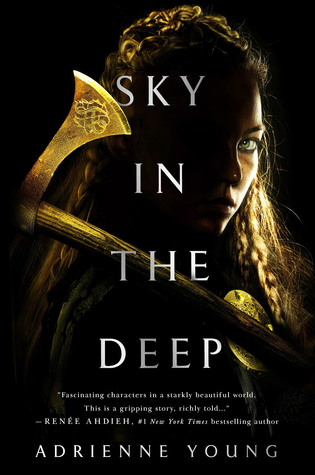 Raised to be a warrior, seventeen-year-old Eelyn fights alongside her Aska clansmen in an ancient rivalry against the Riki clan. Her life is brutal but simple: fight and survive. Until the day she sees the impossible on the battlefield — her brother, fighting with the enemy — the brother she watched die five years ago.

Faced with her brother's betrayal, she must survive the winter in the mountains with the Riki, in a village where every neighbor is an enemy, every battle scar possibly one she delivered. But when the Riki village is raided by a ruthless clan thought to be a legend, Eelyn is even more desperate to get back to her beloved family.

She is given no choice but to trust Fiske, her brother's friend, who sees her as a threat. They must do the impossible: unite the clans to fight together, or risk being slaughtered one by one. Driven by a love for her clan and her growing love for Fiske, Eelyn must confront her own definition of loyalty and family while daring to put her faith in the people she's spent her life hating.
Opening line:
""They're coming.""
I want to add so much more to that opening line because there is so much more!
The book opens with the Aska and the Riki fighting. Why? We don't really know except it's like two tribes battling it out in an age-old war. These clans are raised, both boys and girls, knowing they will train as warriors because they will fight the enemy.
Eelyn is the kick butt heroine of the story; she's strong, smart and loyal to her family and clan. But her character isn't in your face with how awesome she is. She fights because this is all she knows, because she is protecting her family and because this fight, or death, will bring honor.
But something goes wrong in this opening battle--Eelyn thinks she sees her dead brother fighting for the enemy. This starts the path of self-discovery she is at forced first to take, then she discovers many life lessons on her own.
The characters were well written and I cared for them and their families. I LOVED how much family was important in this book--both blood and chosen!
The world was easy to read and understand. Harsh climates, harsh living, trying to stay alive were part of the world building and done well.
The romance was Spot. On. I felt it was very realistic and I loved it. I loved when the dimples finally came out in a smile. SWEET
Overall, this was a great, un-put-downable read. There is a lot of fighting in this book (because that is what they know to do) but I didn't think it was graphic. No swearing. Some kissing. I feel comfortable recommending this book!

Thanks to netgalley and Wednesday Books for the early read!


https://www.goodreads.com/review/show/2375139750